THE SUNSHINE BOYS
In March we will be presenting Neil Simon's classic comedy,
The Sunshine Boys
made famous by the Oscar-winning film starring Walter Matthau and George Burns. It had been our intention to present
The Odd Couple
, but due to a possible West End revival the amateur rights have been withdrawn, or at least they will only be granted on the basis that they can be withdrawn at any time and with no prior notice. Obviously we could not risk proceeding on that basis and so we have taken the decision to produce another great play by the same author.
The play is centered on Al and Willie who, as "Lewis and Clark", were top-billed vaudevillians for over forty years. Now they aren't even speaking to each other. When CBS requests them for a "History of Comedy" retrospective, a grudging reunion brings the two back together, along with a flood of memories, miseries and laughs.
The Sunshine Boys
will be on stage at the Public Hall from the 18th to the 21st March. Tickets will be available shortly, so come back soon and visit our online Box Office page.
OH WHAT A LOVELY WAR
The audience feedback for Oh What A Lovely War has been fantastic. In this centenary year of the start of World War 1 it is fitting that the emphasis of the production was on paying tribute to those who lost their lives in this terrible conflict. That's not to say that there wasn't a great deal of humour throughout the play. We have also received praise for abandoning the traditional pierrot costumes, which probably mean nothing to most young people now, in favour of a more generic 1910s working class basic costume. In particular the colour and humour of the circus parade early in the play has been commented on.
With all of the cast taking on a multitude of roles it is impossible to pick out individuals, although Sean Stains' drill sergeant has come in for praise, as has Amanda Bedwell's rendition of 'Keep The Home Fires Burning'. In fact all of the singing was of a very presentable standard (considering we are an acting group with little experience of public singing!). This was in no small part thanks to the efforts of the Musical Director Thomas Duchan - did he really realise what he was taking on? Much praise must also be heaped on the wardrobe team of Lesley Anderson and Val Ryan and the wonderful props produced by Kris Knox-Crichton.
2015
In March we are presenting The Sunshine Boys by Neil Simon. Our plays for June and November will be posted here soon.
Site Guide
Background
Box Office
Contact
Questions?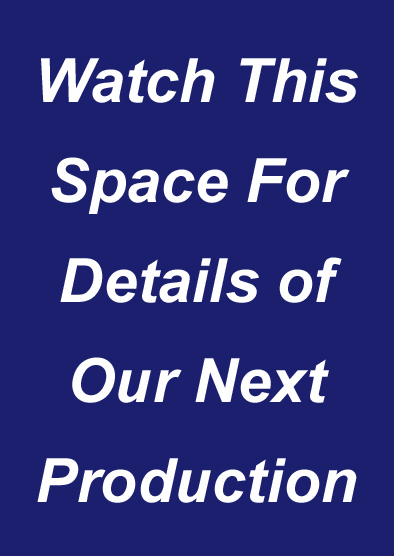 Our Next Play
Links of Interest
Witham Public Hall Trust
Witham Operatic Society
Times Out
AmDram Home Page
North Essex Theatre Guild