About Us
Witham Dramatic Club has been established for over 60 years and has staged in excess of 140 plays. In addition to our regular productions we have an active and fun social life. We are always delighted to welcome new members, so if you have ever fancied trying your hand at acting or backstage work why not get in touch?
Like any amateur dramatics society we find our programme tends to lean towards comedies, after all that seems to be what most of our audience wants. But that doesn't mean we play safe - even within the confines of 'comedy' there is a great range to choose from. From farce to black comedy and from modern day to period pieces we believe it is important to choose plays that are well written and among the best of their type. Over the years we have presented plays from the pens of Alan Ayckbourn, Ray Cooney, Oscar Wilde, Joe Orton, Alan Bennett, J B Priestley, David Storey, Noel Coward, Tom Stoppard and Neil Simon (to name but a few!)
That's not to say we have ignored more serious drama. Recent years have seen
The Anastasia File, The Real Thing
and Michale Morgurgo's
Private Peaceful.
We believe that a balanced programme of good quality material is what keeps our audiences interested, and if some are more popular than others so be it. We have been entertaining the people of Witham for over 70 years, with any luck we will still be doing so in another 70 - why not come and see us some time?
Our History
There had already been a musical society in Witham for some 25 years when a Mr Clifford Stuart decided that the town could do with some "straight" theatre. His first intention was to form a play reading group and called a meeting at a venue in the town centre. The meeting was not an outstanding success with only a handful of people turning up. Nonetheless, those that were at that inaugural meeting in 1946 had enough enthusiasm to persevere and early the following year Witham Dramatic Club was formally constituted.

The regular meetings became very popular and the membership quickly grew. Before long it was decided to take on a public performance and in 1949 the Club staged its first production, Staff Dance.
Through the 1950s the Club grew in experience and ability as it staged its annual productions, including Bonaventure and Hobson's Choice and what was, for the time, a controversial play; Tennessee Williams' A Streetcar Named Desire.

In 1963 The Club decided to commit to two plays a year. Not only did the Club double its output, but it was also choosing plays of some quality, including a couple of Shakespeare's, as well as important 20th century writers like Noel Coward, Terence Rattigan and Jean Anouilh. At the end of the decade, with audiences getting harder to attract, the Club started looking to sure-fire box office, in the form of comedy and farces, though still putting on the occasional more challenging work.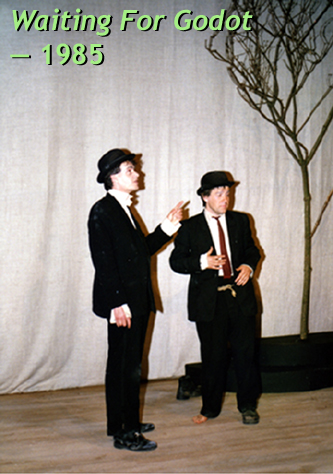 High points of the 70s included Max Frisch's political play Andorra, the controversial The Killing of Sister George and a glittering production of Pygmalion. Towards the end of the decade there was a move towards rather more sophisticated plays, especially when it came to comedy.

In November 1980 the Club had one of its greatest box office successes with an award-winning production of Oh What A Lovely War while 1982 saw the Club up its output once again to three plays a year. The second half of the decade brought a string of high quality plays such as Waiting For Godot, The Birthday Party, The Accrington Pals and Clouds.


Through the 90s the Club continued a policy of balancing good quality writing with popular appeal, staging plays from the pens of Oscar Wilde, Alan Ayckbourn, John Godber, Tennessee Williams, Harold Pinter, Arthur Miller, David Hare and J.B. Priestley to name but a few.

The decade also saw the Club win the prestigious North West Essex Theatre Guild 'Best Production' Award four years running, something that had never been acheived before and, with the demise of the NWETG, can never be repeated. Those winning plays were; Accidental Death of an Anarchist (1994), Amadeus (1995), The Glass Menagerie (1996) and The Caretaker (1997).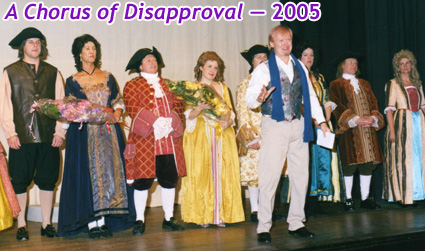 The new millennium started strongly for us with a range of productions that included more from the ever-popular Alan Ayckbourn, new plays from lesser-known writers, such as Debbie Issit, Simon Mendes da Costa and Shelagh Stephenson and works from more established authors, including Alan Bennett, Joe Orton and Neil Simon. Mid-way through the 'noughties' a reducing membership made it more diffcult to continue with our programme of three productions a year and, for four consecutive years, we found ourselves having to cut back to just two. Perhaps surprisingly we still managed to put on plays with larger-than-average casts, such as A Chorus of Disapproval and Under Milk Wood.

By 2009 we were back to three plays a year and we continue to strive to find challenging and interesting plays, both for ourselves as performers and for our audience. Plays like Terra Nova, Death and the Maiden or Playhouse Creatures.

If you are interested in joining our free mailing list or becoming a member just drop us an email.

To book tickets and pay online vist the Box Office,
Site Guide
Background
Box Office
Contact
Questions?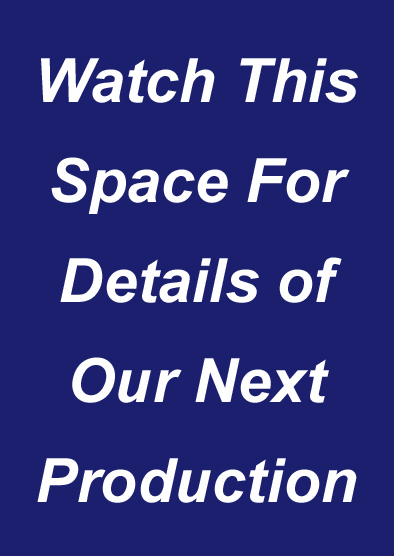 Our Next Play
Links of Interest
Witham Public Hall Trust
Witham Operatic Society
Times Out
AmDram Home Page
North Essex Theatre Guild